Tax Certifications
The Whitpain Township Tax Collection Office provides Tax Certifications for taxes paid in 2022.  Questions? Call 610-492-9191
Tax Certifications for Taxes Paid BEFORE 2022: Click here to request a tax certification for 2021 or prior from the Montgomery County Tax Claim Bureau.  The County can certify that there are no delinquent taxes.
Tax Certifications for Taxes Paid in 2022 & 2023:
Tax Certifications will be delivered by email.  If you would like a paper copy delivered by mail, please provide a self-addressed stamped envelope with your mailed or in-person payment.
Option 1: Request & Pay Online! Click the link below to request your tax certification AND pay $15 online - it's quick and easy!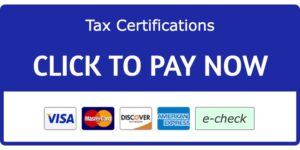 E-check fee: $0.50
Credit Card fee: $1.00 fee
Convenience fees are set by and paid directly to the 3rd party vendor, not the Tax Collector.  Fees are nonrefundable.
OR
Option 2: Pay By Check. Complete the tax certification request below and pay $15 at a later date (by mail or in person). Please note that the certificate request cannot be processed until payment is made.
Tax Certification Request Form - for those paying with a check
DO NOT fill out if you paid online with Option 1.  If you want to pay $15 by mail or in person, you may complete this form and pay at your earliest convenience.
Tax Certifications cost $15.
Make checks payable to Melissa Wanczyk.
Include your parcel number on the memo line.
Mail to:
Whitpain Township Tax Collector
P.O. Box 1424
Blue Bell, PA 19422
Drop off at:
960 Wentz Road
Blue Bell, PA 19422
We can provide one free update, if it is requested within 30 days of the last certification request.